It was with great regret we heard that reknowned Birmingham based jazz saxophonist Andy Hamilton had passed away on Sunday June 3rd, 2012 at the age of 94.
Andy Hamilton was born on 26 March 1918 in Port Maria, Jamaica, and learnt to play saxophone on a bamboo instrument. He formed his first band at the age of eighteen, influenced by American musicians such as Duke Ellington and Count Basie and by the Kingston-based bands of Redver Cook and Roy Coburn.
He spent some time in the U.S., working as a cook and farm labourer, but also having short jazz residencies in Buffalo and Syracuse, New York. After returning to Jamaica, he became the leader of the house band at The Titchfield Hotel in Port Antonio. The most exclusive hotel in the area, regular visitors included Noel Coward and his entourage. In the late 1940's Hollywood legend Errol Flynn arrived in town and, after hearing Andy play, asked to meet him. The next 2 years were spent working with Flynn and playing music on Flynn's famous yacht Zaka. It was in 1948 that Andy composed for Flynn a Jazz Calypso tune called Silvershine - which became the title track of his debut album, more than 50 years later.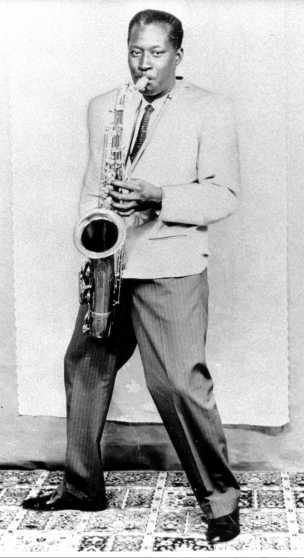 Hamilton emigrated to the UK in 1949, living and working in Birmingham. His day job was in a factory, while at night he played jazz — with his own group, the Blue Notes, with visiting musicians such as Art Farmer and David Murray, and with his sons Graeme and Mark (trumpet and saxophones respectively).
Life in the 1950's was not easy in Birmingham and Andy had more than his share of problems with work, accommodation and racism. He lost his front teeth when assaulted by Oswald Mosley's fascists at a concert he had organised. Undaunted he continued to teach and set up venues and concerts across the city for over 50 years.
At the age of seventy-three, Hamilton made his first album as leader, 'Silvershine' on World Circuit Records; it became the biggest selling UK Jazz Album of the Year, The Times Jazz Album of the Year, and one of the fifty Sony Recordings of the Year. It was followed three years later in 1994 by a live album, Jamaica at Night. He continued to play regularly at the Bearwood Corks Club in Birmingham, and monthly at Birmingham Symphony Hall, and appeared on albums from World Circuit as a guest musician.
In 1996 Hamilton was awarded an Honorary Master of Arts degree by the University of Central England (now Birmingham City University), and in 1999 he received a Millennium Fellowship for his work in Community Education (which has involved the establishment of The Ladywood Community School of Music, supported by the Millennium Commission).
He was appointed Member of the Order of the British Empire (MBE) in the 2008 New Year Honours.
On 30 January 2008 he was made an Honorary Fellow of the Birmingham Conservatoire during a ceremony at Symphony Hall.
Up until his final days he was still playing and teaching privately as well as maintaining his involvement with community and educational projects.
Here are a handful of quotes from the innumerable positive reviews Mr Hamilton MBE received over the course of his long life & career:
John Fordham - The Guardian -"Sumptuous, sensuous, gifted and mercurial, Hamilton's sound is irresistible"
Clive Davis - The Times -"What a relief to hear Andy Hamilton, his distinctive mellow tone and innate sense of melody, set him apart."
Kings Jazz Review - "Hamilton has produced a Masterpiece - he will surely be offered a place among the unique saxophonists of the world"
The Guardian - "Andy Hamilton... ...Caribbean saxophonist with a romantic purr like the sound of the waves"
Art Farmer - "So soulful - so mellow"
For more information about Andy, including a more in-depth biography on the Bearwood Corks Club site, and an interview with the BBC, visit the sites below:
http://www.myspace.com/andyhamilton90
http://www.bearwoodjazz.co.uk/andy.html
http://www.bbc.co.uk/birmingham/your_community/bhm/andy_hamilton.shtml
For information on his two albums, 'Silvershine' and 'Jamaica by Night', visit his record label, World Circuit:
http://www.worldcircuit.co.uk/#Andy_Hamilton
We offer our heartfelt thanks for his outstanding musical & educational contributions over the course of a long and fruitful career,and our condolences to his family, friends and loved ones. RIP Andy..